Since the explosion of CBD, there have been HUNDREDS, maybe even THOUSANDS of products hitting the marketplace.  With popularity comes the need for more research for more differentiated products to stand out from a crowded marketplace.  This research has taken scientists to look at the effects of various cannabinoids.
Mind you there are at least 113 different cannabinoid molecules that have been discovered and need to be researched.  That's a huge undertaking!
Cannabigerol (CBG) was first discovered in the 1960s!  Yes, it's been a known molecule for almost 40 years. But, it's popularity and research hasn't started until the last couple of years with the explosion of CBD (as noted above).
The US government is quite keen on learning more about CBG.  In 2018 The National Center for Complementary and Integrative Health (NCCIH) announced an intent to research minor cannabinoids including CBG that could help manage pain.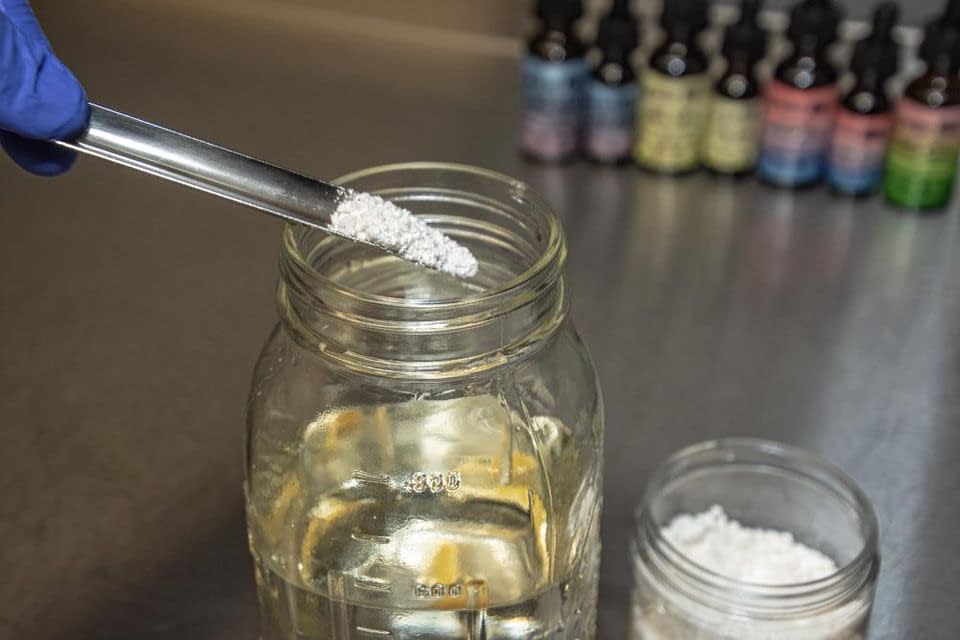 Cannabigerol is a stem cell cannabinoid.  What's a stem cell? In layman's terms it's the foundation cell that metamorphosizes into other cells.  Just like in humans, stem cells start off as a blank blueprint. The host body will determine what needs to be created to continue growing.  Example: "hey, we got a cut over here, can you make some more blood and some skin please?" The same process happens in the cannabis and hemp plants.  CBG is the stem cell that converts into either CBD or THC or CBN or any of the other 113+ cannabinoids within the plant.
WHAT ARE CBG'S PROPERTIES AND BENEFITS?
CBG works on the endocannabinoid system (ECS) and has a high affinity to the CB1 and CB2 receptors in our nervous system.  It regulates mood, pain response, metabolism and appetite. When CBG acts on those receptors, it produces physiological changes.
All of the claims of the benefits of CBG are in it's infancy, BUT there does seem to show a lot of promise for this breakthrough molecule.
So far what we do know is that it has anti-bacterial and anti-inflammatory effects and it's non-intoxicating, so you won't get high from CBG.
But, with more research the potential for CBG to help our health is extraordinary.  It's non-intoxicating, just like CBD, and it has the ability to enhance anandamide, the "bliss" molecule within our bodies.
It's also been shown to be a powerful neuroprotectant.  It's currently being evaluated in the treatment of cancer and Huntington's Disease.
Why is CBG called the "Rolls-Royce" of cannabinoids?
So here's the nitty gritty about CBG and it's less popularity within the CBD and natural wellness industry:
TONS OF HEMP PLANTS ARE NEEDED TO EXTRACT A SMALL AMOUNT OF CBG!
The hemp or cannabis plant is not bred to have high CBG content.  Many of the hemp products on the market are made from generations of hemp bred for high CBD content.  This gives the manufacturers more CBD yield on their crop.
CBG is a whole new molecule to breed.  CBG, as stated, is a stem cell. It evolves into other cannabinoids over time.  That's the crux, TIME! When a hemp plant is growing, there's more CBG in a younger plant than in an older plant.  Why? Because over time, those CBG molecules will have metamorphosed into another cannabinoid (mainly THC or CBD).
And another kicker, there's very little CBG in the young plant to evolve.  It's estimated that you need 20x the biomass of hemp to make the same amount of CBD.  Some hemp strains contain as much as 20% CBD in the buds and only 1% of the CBG molecule.
So farmers and manufacturers are left with a huge dilemma:
Harvest early and receive a tiny amount of CBG for a blossoming market

Harvest late and receive a huge amount of CBD for a saturated market with even less CBG to extract.
I don't know if many farmers have enough acreage to have 2 crops, one for CBG and one for CBD.  That's a huge plot of land and large overhead costs.
I'm going to say that consumer demand will help drive the farmers and manufacturers decisions.
What's the future of CBG?
Since CBG came into popularity around 2015, a mere 5 years ago, some farmers have started the process to breed more hemp plants with higher CBG content.  Many of the cannabis/hemp plants today yield >2% CBG by volume.
One manufacturer has pioneered breeding higher CBG cannabis/hemp plants.  Hemptown USA has created a breed that yields up to 10% CBG by volume.  Read the Hemptown USA review on Leafly.com
Extracting CBG is also a very expensive process.  Equipment used to extract CBD is not the same as CBG extraction.  Each manufacturer has ventured into creating their own machines with their own IP for extraction methods.
As with any new technology or advancement, the retail price is going to be very high.  This is so that the manufacturer can recoup their investment costs. As the market matures and more competition comes into play, prices will drastically drop.  Remember when the CD player was announced? The original Sony version was over $10,000! Now, you can find a portable CD player on eBay for $10.
I know that I am very very interested in trying CBG products and see how they compare to the CBD products I've used over the years.  I'm looking forward to less pain and better days.
I'll keep you updated on my experiences with CBG.