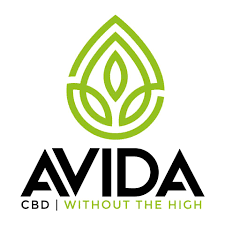 Avida CBD started in early 2018, with the idea that they needed to target a specific market.  They knew there was a whole untapped market for their product and did their diligent research to bring top notch, great flavored products to market.
Avida CBD's target market is the vapor community (at first).
They launched their vapor liquid (WITHOUT  NICOTINE) to the public with great fanfare.
I used to own a vapor/e-cig retail shop and have taste tested hundred if not thousands of flavors coming through the store.  I've also had the opportunity to try competing brands' CBD infused liquid.
The taste comparison between Avida CBD's vape liquid to competing brands' CBD vape liquid to be NIGHT & DAY comparison.
After years of tuning my vape pallette over all the years in the vape business, I was able to say with 100% confidence that Avida CBD flavors are OUTSTANDING.
Deriving their CBD formulation from CBD Isolate, Avida CBD has been able to remove 100% of the hemp flavor from their liquid (not many people like the hempy/marijuana taste).  I was absolutely astonished on my first puff at how much their flavors tasted like non-nicotine vapor flavors.  Had someone given me a blind taste test, I'm sure I would have failed (and this is coming from a vape connoisseur).
What's Unique About Avida CBD
USA grown and sourced Hemp, Colorado
Non-GMO and Pesticide free
Tested for purity twice.  Once In house and once to an independent lab
Offering 30-day money back guarantee
Clean C02 extraction methods
Rated best for inhaling and vapers
I have tried numerous CBD candies ect.. Avida hand down makes the yummiest gummies In the biz. Thanks Avida
The smell of mangos is so calming on its own, it smells so good my dog was begging for it when I opened the package 😂. It's clear and tastes of mangos and it calms my anxiety within a few minutes. It was also really helpful with cramps this month, I cannot wait to try other flavors, the price was also very very reasonable
It's got a sweet taste to it, it was perfect to add to my menthol vape.
Hi, I'm responding to the feedback email regarding the 500mg It got delivered today and I couldn't wait to get home as I had a stressful day/week at work and needed to relax and not remain anxious. This I would normally solve buy picking a few bottles of wine from the shop on the way home this usually did the trick as I'd get drunk with bonus of crashing to sleep .., and feeling like ...well you know the next day. Today I mulled over a few boutique beers to take home on Friday instead. I am indeed very happy with the Avidia product I'm relaxing nicely and feel most peaceful, and chilled ...I have not bought my anxiety home for a change. Thank you, and expect more orders. The flavor is fantastic my wife loves this Mango and we are both keen to try the others very soon in the near future! Love ya work AVIDA!
I rated this product : Effectiveness- Excellent Fragrance-Appealing/Lighter aroma Product applicability-moderately difficult to apply Product Texture- Excellent/very moisturizing
Avida CBD Products I've Used
I've used all Avida CBD flavors in my day-to-day activities.  As prefaced earlier, I am amazed at all their flavors, but the one flavor that I was attuned to was Manga Mango.  It really does taste so good.  Sometimes when there's a flavor in my tank, I'd add the Unflavored (continued below).
Vape Juice Flavors
Blue Raspberry, Berry Grape, Manga Mango, Unflavored
Vape Juice Concentrations
250mg, 500mg, 1000mg

CBD JUUL Pod Flavors
Berry Grape, Blue Raspberry, Manga Mango
CBD JUUL Pod Concentrations
20mg/Pod (2 pods per pack)
Getting back to being a vape shop owner.  Being on my feet all day, talking with customers, managing staff, managing inventory, basically being a one-man shop, being stressed is an understatement.
I've had episode after episode of anxiety from being overwhelmed.  Then Avida CBD samples came into the store.
It changed my life for the better in the shop.  Whenever I felt that an anxiety attack would surface, I would take 3 or 4 puffs from my vapor device with Avida CBD juice, and I was MUCH better within seconds.  I could feel the relaxation come over my body and my mind calming.  I was able to tackle the situation at hand with ease.
What I liked most about Avida CBD, was that they provided an UNFLAVORED version.  This was perfect for my current flavor in my device.  I could fill the tank almost to the top, then add my dose of Avida CBD to my juice.  The flavor says, Unflavored, but in all honesty, there's just a slight tanginess.  This did alter the flavor in my vapor tank, but it didn't make it so bad that it was off putting.   I had no issues vaping the whole tank throughout the day, getting my microdosing until closing the shop for the day.
Since their inception, growth, and popularity, Avida CBD has been able to expand their product selection from topicals and to tinctures.  They've also changed their formulation to broad spectrum from isolate for their tincture and topical line up.
3 popular and effective concentrations

 250mg in 30ml (1oz)
500mg in 30ml (1oz)
1000mg in 30ml (1oz)

4 Delicious flavors

Berry Grape
Blue Raspberry
Manga Mango (favorite)
Unflavored (maybe not delicious but needs to be here)

Prices compared to the competition, very competitive
Only 3 flavors (but each one is great in their own right).  More flavor variations would attract more customers. I'd love a savory flavor like doughnut.
Larger sized bottles.  30ml bottles is great, but 60ml or larger would definitely be appreciated.
3 great flavors
Easily swappable with your nicotine product

Priced competitively 
Only 2 pods per pack (more would be better)
Wish they had higher concentrations.  20mg per pod is good, but 50mg would be that much better
Need to expand their flavor varieties
Avida CBD's other products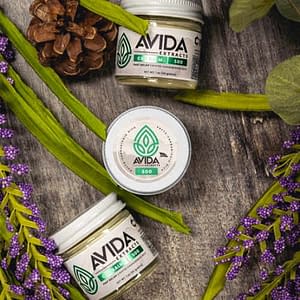 Avida CBD Balm is pretty amazing.  Only a little bit goes a long way.  Contains 100% all natural ingredients and an abundance of skin nourishing properties.  Suffering from a localized muscle or joint pain?  Rub a little bit of this CBD Balm into the affected area and feel relief for hours.
1oz (30 grams)
500mg of Active CBD
100% Natural Ingredients

Vitamin E
Beeswax
Avocado Oil
Lavender Oil
Hemp Seed Oil
Broad Spectrum CBD

Non-GMO & Gluten-Free
Free from chemicals, alcohol, and fragrances
3rd Party Tested for purity, safety, and potency
After their successful launch of the vape juices, Avida CBD decided to venture out into the tincture market.  They've gone ahead and took their skillsets and created 2 new formulations of CBD.
Full Spectrum Tincture:  This is NOT a THC-Free product.  Full spectrum has the federal legal limit of 0.3% or less of THC content.  Having THC in your product will enhance the effects of CBD and other cannibinoids.  Something called, the "entourage effect".  The only downside is that the flavor is very herbal.  Very "hempy".
Broad Spectrum Tincture: Very much like the Full Spectrum product sans THC.  Broad spectrum CBD is the middle ground between Full Spectrum and Isolate.
Tincture Flavors:
Natural
Tincture Concentrations:
Broad Spectrum 500mg 30ml (1 oz.)
Broad Spectrum 125mg 15mg (0.5 oz.)
Full Spectrum 500mg 30ml (1 oz.)
Avida CBD Returns Policy and Contact
Shipping:
Orders are shipped out within 24 hours of receiving the order.  Deliveries are through USPS.  FREE SHIPPING on all US Domestic orders.
Returns:
Avida CBD is to confident that their product will work for you, they're offering a 30-day money back guarantee.  Doesn't matter how much of the product is used, they'll give you 100% of your order back.  (shipping product back is not refundable)