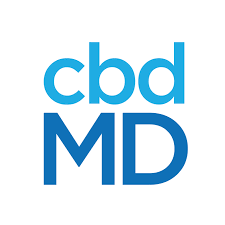 cbdMD has been in business since September 2016 and has garnered quite the following since.  They're an american company that is a traded on the NYSE under the ticker YCBD.
 cbdMD wants to stand out from the crowd by producing the best quality products at the best prices.  They understand that CBD in it's infancy nature, is going to be quite expensive.  Many companies pass along the cost of investment to the consumer.  cbdMD strives to keep extra fees from the customers.
cbdMD's vast array of products will certainly have something that will satisfy your supplement needs.  They even have a good selection of pet products for your 4 legged family member.
Many retail stores carry cbdMD products and for good reason.  They're packaging is clear and legible.  They consistently have their products tested in batch and publicly avails the results on their website.  cbdMD is all about transparency.  At any time you can email them and get a response in a rather short time.
cbdMD's claim to fame is that they're a NON-THC (tetrahydrocannabidiol), broad spectrum product.  After being in the CBD industry for quite some time, cbdMD has garnered a following from not just everyday joe consumer, but to top athletes.  They use cbdMD products to help ease their training pains and to help recuperate.  Nothing is worse to an athlete than to not be able to train.  Getting back out on the road, to the gym, back on the bicycle, that's all these athletes want to do, and cbdMD products help get them there quicker.
What's Unique About cbdMD
USA grown and sourced Hemp
Non-GMO and Pesticide free
Tested for purtity twice.  Once In house and once to an independent lab
Sponsors many athletes to help their performance
Offering 30-day money back guarantee
Clean C02 extraction methods
Rated best for athletic recovery
Helped me relax, not think so hard , and more relaxed but not in a sleepy way lol love this product , I have my parents and my dogs on cbd from here !!
This stuff really works. It helps me fall asleep and keeps me sleeping. However the flavor is really really bad. I would rather not have the mint flavor on top of whatever the oil tastes like naturally. It's so bad. If it didn't work so well I would never take it again. Please make other options besides mint
I have PTSD and chronic insomnia. The battle has been long and hard but your product is the best by far that I have encountered. It just takes 1 little gummy (very tasty) to help me to sleep or to just make the shakes go away. You have a permanent customer with me!
Using this gel 2 or 3 times a day along with CBD tinctures has helped me to NOT take Ibuprofen very often. I have painful tendons...neck, shoulders, arms.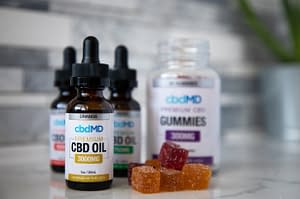 cbdMD's tinctures and gummies have been in my rotation for quite a while.  I've had good success with both of these products.  Most of my daily pains diminished significantly.
During the day I would take 1 gummy before heading out to work.  Just 1 gummy provided 25mg of broad spectrum CBD for a good portion of the day.
Before bedtime, I would take one full dosage of the 750mg Berry Tincture roughly 30-45mins before hitting the sack.  It does relax my body and calms the buzzing thoughts in my head about work and life's stresses.  When my head hits the pillow, I'm listening to calming yoga/meditation music on my Google hub.  Feels like I'm at a massage spa but I'm curled up and ready for the dreamscape.
Tincture Flavors
Natural, Berry, Orange, Mint
Tincture Concentrations
300mg, 750mg, 1500mg, 3000mg, 5000mg, 7500mg

Plethora of CBD concentrations

 300mg – 7500mg in 30ml (1oz)
1000mg, 1500mg in 60ml (2oz)

4 Delicious flavors

Natural
Orange
Berry (favorite)
Mint

Amazing prices compared to the competition

$30 – $340 (30ml)
$75 – $100 (60ml)
Taste. If you're an aficionado of hemp flavor then this is a non-issue.  There's a reason they added flavoring to the recipe
At the higher concentrations, it could be pricey, however, if the competition wants to create higher concentrations to compete, you can bet that they will be much more expensive
Very competitively priced
Wonderful mixed fruit flavors
2 concentration options

300mg/30 pieces (10mg each gummy)
750mg/30 pieces (25mg each)

Vegan
Taste.  Very slight hempy flavor.  Remember it's still broad spectrum, so the more cannbinoids in the product the more herbal or natural it will taste.
Too yummy to stop at 1 or 2 (at least for me)
All of cbdMD's topical products are top notch for muscle pain and joint pain relief.  They're available in various concentrations and various dispensing methods. And don't forget, all THC-free.
You can get it with or without menthol (some people have sensitive skin).  You can get a travel size or triathlon size.   They're perfect for arthritis and inflammation pains.
You'll find formulations with Aloe Vera, Vitamin E, and Arnica.  The freeze products have menthol and tea tree oil.
Your 4 legged furbaby can take advantage of CBD also.  Every mammal on the planet has an endocannibinoid system and can benefit from the pain relief and anxiety relief properties of CBD.
cbdMD is offering treats, chews, tinctures, and balms for fluffy's overall health and recuperation.
Tinctures: Concentrations from 150mg to 3000mg.  Flavors are only 2, natural and peanut butter.
Pet Chews: 2 varieties, Hip and Joint Chews and Calming Chews.  Each available in concentrations of 150mg to 600mg.  3 favorite flavors available: Chicken & Bacon, Bacon, and Turkey.  
Calming Chews magic ingredient is L-Tryptophan
Hip & Joint Chews magic ingredients are Glucosamine and Chondritin and a variety of Omega 3 fatty acids.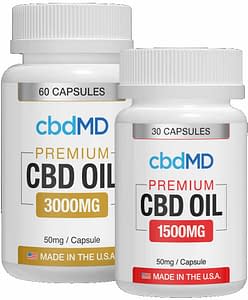 Take all of the worry out of dosages with cbdMD's Gel Caps.
Each capsule looks like a Vitamin E capsule, but contains the highest quality, broad spectrum CBD oil and MCT Oil (fractionated coconut oil).
All natural non-GMO gel capsules are easy to take on-the-go.
30 Gel Caps: 15mg/capsule 450mg total, 33mg/capsule 1000mg total, 50mg/capsule 1500mg total
60 Gel Caps: 16.67mg/capsule 1000mg total, 25mg/capsule 1500mg total, 50mg/capsule 3000mg total
cbdMD has from it's inception regarded athleticism and athletes a major target market.  Knowing that CBD can reduce inflammation and reduce pain, this was the perfect destination.  Also, knowing that many athlete's don't like THC or don't want any THC in their bodies, due to random testing, how can cbdMD NOT be successful with this market?
cbdMD has sponsored many top level athletes and top level athletic events.  Many of the sponsored athlete's view cbdMD as a major supplement to their athletic regimen.  The one thing that focused, top level athlete's hate is DOWNTIME.  Downtime from injuries, pain, lack of energy, etc.  If they can't workout, they can't compete, it's that simple.  cbdMD products, being broad spectrum formulation, provides a plethora of healthy benefits to get these hard core athletes back on the court, back on the road, back in the cycle saddle, and back in the gym.
Just look at the list of sponsored athletes and their comments about not just the CBD product, but about working with cbdMD as a company.  
cbdMD Returns Policy and Contact​
Shipping:
cbdMD uses Fedex for all their shipments.  Shipments normally take 2-5 days depending on distance.  Also, they WILL NOT ship to a P.O. Box.  Shipping will only be delivered Mon-Fri.
Returns:
cbdMD will give a 30-day Money Back refund from the shipping date.  Every order will be at the discretion of cbdMD's review.
Email: support@cbdmd.com
US: (800) 973 – 3984
International: +44 208 077 5545
Northern Ireland, BT34 3HQ
1 Elmfield Avenue
Warrenpoint, Newry, Co. Down